After being selected for the China Data Governance Ecology Report, SequoiaDB was recently selected again for The Data Management For Analytics Landscape In China, Q4 2022, released by Forrester, one of the world's most influential independent research and consulting firms. The report introduces the business value of data analytics management, business development maturity, well-known domestic vendors in related fields and popular use cases, etc. The report helps enterprises enhance their understanding of data analytics management.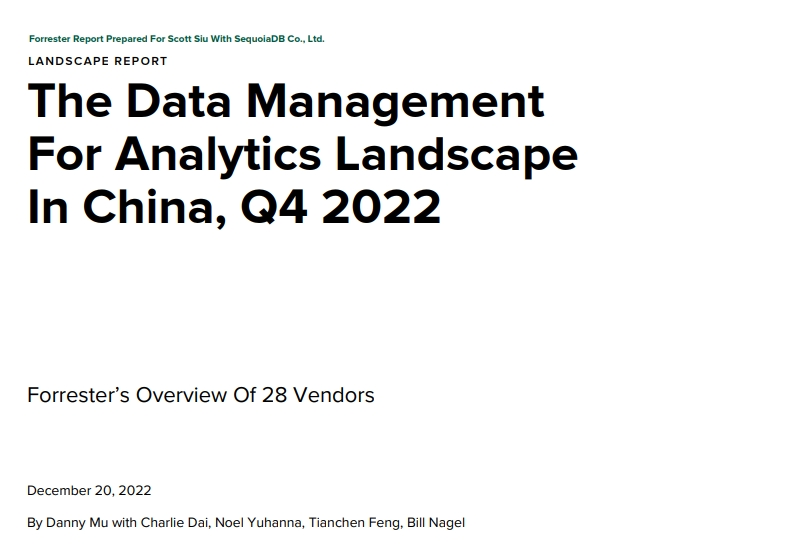 According to Forrester, data analytics management can help companies accelerate the cultivation of emerging businesses and enhance insight-driven business development. Data analytics management has matured in China, where Chinese enterprises typically use it to serve different businesses, such as intelligent customer service, operational insights, IoT analytics, data science, fraud detection, and risk analysis.
At the same time, Forrester emphasized in the report that the main challenges of data analytics management are real-time data and elastic scalability, the importance of real-time data is beyond doubt. and Forrester explicitly stated in the report that one of the values of data analytics management is to achieve real-time analysis through intelligence. "Employees, partners, and customers should be able to get data in real-time. Previously, consumers typically had to wait at least 24 hours to get data for analysis." Forrester said that real-time capability requires platforms to provide low latency, high concurrency, which requires a reconstruction of the underlying database architecture.
SequoiaDB realized from the outset in 2012 that the value of big data was not limited to Hadoop's offline analysis, and real-time processing capabilities would be an effective means of adding value to data. With the initial intention of making big data more real-time, SequoiaDB resolutely began the development path of self-developed native distributed database kernel from scratch.
In 2014, based on the customer's new requirements, SequoiaDB included unstructured data on the basis of its native distributed database kernel to develop unique multi-mode data lake capabilities with advantages such as unified storage of image file data and metadata, high-performance read and write, easy operation and maintenance, multi-activity, and disaster recovery. On the basis of multi-mode capabilities, in 2016, SequoiaDB took another step forward, and landed a trillion-quantity high-concurrency structured real-time data lake.
The multi-mode data lake and real-time data lake are unique capabilities of SequoiaDB, which has become China's first independent self-developed distributed database manufacturer to enter Gartner's Database Magic Quadrant report. With its leading technological capabilities, since 2022, SequoiaDB has repeatedly won recognition from international authoritative institutions and has been selected for reports such as "Navigate The Data Management Ecosystem In China" and "Trend Report: Navigate The Data Management Ecosystem In China" published by Forrester. In addition, this year, SequoiaDB has also been selected for international authoritative institution rankings and reports such as IDC Innovator List, Gartner's "Market Guide for DBMS, China," and "Tool: Vendor Identification for Database Management Systems, China."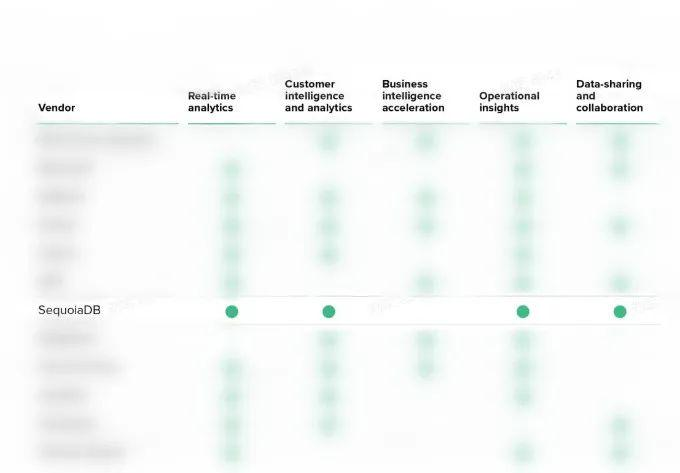 After ten years of development, SequoiaDB has evolved from a multi-model and real-time data lake to an integrated lake-warehouse architecture, meeting the storage and management needs of enterprises for multi-model, real-time, and massive data, and unlocking the full value of data.
SequoiaDB's technology and solutions have been highly recognized by customers. Currently, it has been implemented at scale by more than 100 financial institutions, covering state-owned banks, joint-stock banks, provincial-level rural credit cooperatives, city commercial banks, insurance, securities, and other financial customers. The largest running cluster among the officially launched systems has a data volume of 1.4 trillion rows, a capacity of 3PB, and a scale of over 400 servers. The longest-running customer has been using SequoiaDB stably for eight years, successfully providing enterprises with real-time access to full-volume data across businesses and decision-making based on unified data sources, achieving sustained release of data value.
In the future, SequoiaDB will continue to deepen its distributed technology and focus on the management needs of multi-model, real-time, and massive data, striving for excellence and providing high-quality products and solutions for enterprise digital transformation.